Unravelings by Sarah Cheshire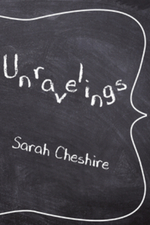 "In crafting this narrative, my intention is not to seek retribution or cast blame," Cheshire says, "but to delve into the intricate psychological landscape of a relationship imbued in both intimate creative energy and deep power imbalance. Through my own story, I hope to issue a larger interrogation of how we as storytellers construct and reconstruct truth through narrative, and the ways in which accountability can become complicated through our manipulations of memory, both those advertent and those inadvertent."

In her memoir Unravelings, Cheshire's narrative explores the relationship between her college professor and herself, what was once pure and innocent quickly turned to something else. When an inappropriate situation occurs between the two, she is faced with a choice. Does she finally come to terms with the person she thought he was and the person she once fought so hard for, or the man he truly is? Along with documented texts and emails, and with Title IX, getting more involved in these types of situations, Cheshire describes her experience, feelings, and her inner thoughts regarding the professor and the situation, in Unravelings.